COMMANDES
2017 MAISON DE LA PETITE ENFANCE AVEC ERIC MAILLET LIVAROT CALVADOS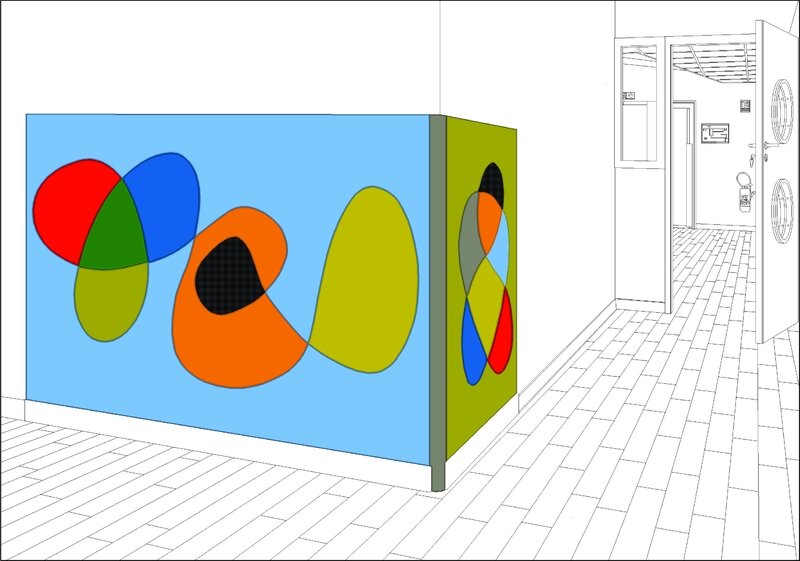 DEUX MURS ENCASTRES FAIT D'UN DESSINS DE COUSSINS CONNECTANT DES SONS RELATANT LES
DESIRS ARCHITECTURAUX DES LIVAROTAITS FACE AU PROJET DE LA MAISON DE LA PETITE ENFANCE
(UK) TWO INSERTING WALLS MAKE CUSHION DRAWINGS CONNECTING SOUNDS RELATING TO THE
ARCHITECTURAL DESIRES OF LIVAROTAITS FACING THE PROJECT OF THE HOUSE OF LITTLE CHILDHOOD
(DE) ZWEI EINFÜGENDE WÄNDE MACHEN KISSENZEICHEN, DIE TÖNE IN BEZUG AUF DIE
ARCHITEKTURWÜNSCHE VON LIVAROTAITS BEIM PROJEKT DES HAUSES DER KLEINEN KINDHEIT
VERBINDEN
(ES) DOS MUROS INSERTANTES HACEN DIBUJOS DE COJINES CONECTANDO SONIDOS RELACIONADOS CON
LOS DESEOS ARQUITECTÓNICOS DE LIVAROTAITS FRENTE AL PROYECTO DE LA CASA DE LA NIÑEZ
PEQUEÑA
(PT) DUAS PAREDES INSERANTES FAZEM DESENHOS DE COISÃO CONECTANDO SONS RELACIONADOS
DESENHOS ARQUITECTÓNICOS DE LIVAROTAITS APRENDENDO O PROJETO DA CASA DE PEQUENA
INFÂNCIA
2016 LYCEE PAUL DESCHAUX AVEC EMMANUEL BARROIS SASSENAGES ISERE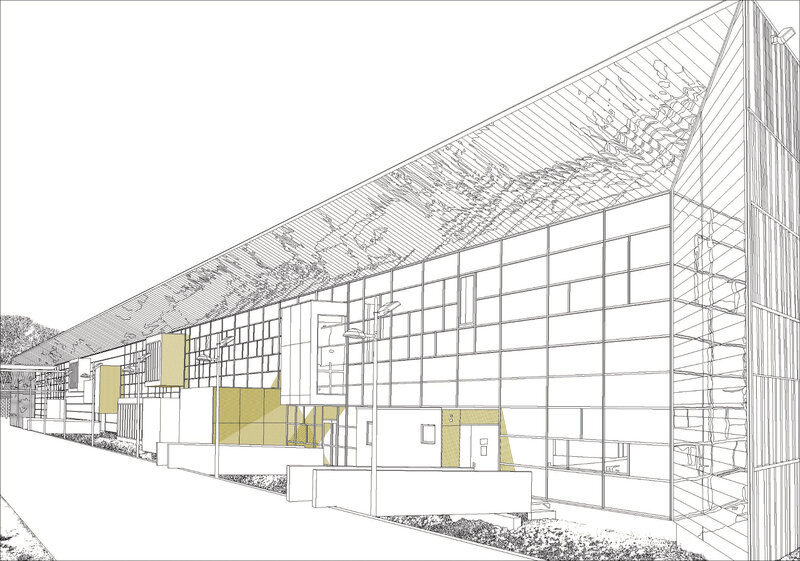 PEINDRE EN DORE LES OMBRES PORTEES A DIFFERENTES HEURES DE L'ANNEE SUR UNE FACADE AU NORD
(UK) PAINTING THE SHADOWS AT DIFFERENT HOURS OF THE YEAR ON A NORTHERN FACADE IN NIGHT
THE SHADOWS DIFFERENT HOURS OF THE YEAR ON A FACADE IN THE NORTH
(DE) GEMÄLDE DER SCHATTEN ZU VERSCHIEDENEN STUNDEN DES JAHRES AUF EINER NORD FASSADE
IN DER NACHT DIE SCHATTEN VERSCHIEDENE STUNDEN DES JAHRES AUF EINER FASSADE IM
NORDEN
(ES) SEIS RECTÂNGULOS DE CORES TRANSPARENTES SOBRE AS SEIS ABERTURA ENVIDRAÇADAS
TRIPLEX BRISES DO PORTÃO DA ENTRADA
(PT) PINTANDO AS SOMBRAS EM DIFERENTES HORAS DO ANO EM UMA FACHADA DO NORTE NA NOITE
AS SOMBRAS DIFERENTES HORAS DO ANO EM UMA FACHADA NO NORTE

2016 PARKING DU CENTRE NOISIEL
PEINDRE CHAQUE PLACE DU PARKING DE 100 COULEURS DIFFERENTES
(UK) PAINT EACH PLACE OF PARKING OF 100 DIFFERENT COLORS
(DE) FÄLLEN SIE JEDEN PARKPLATZ VON 100 VERSCHIEDENEN FARBEN
(ES) PINTAR CADA LUGAR DE APARCAMIENTO DE 100 COLORES DIFERENTES
(PT) PINTAR CADA LUGAR DE ESTACIONAMENTO DE 100 CORES DIFERENTES
2010 NANTERRE "EDICULE" RATP CHEMINEE DU RER LIGNE A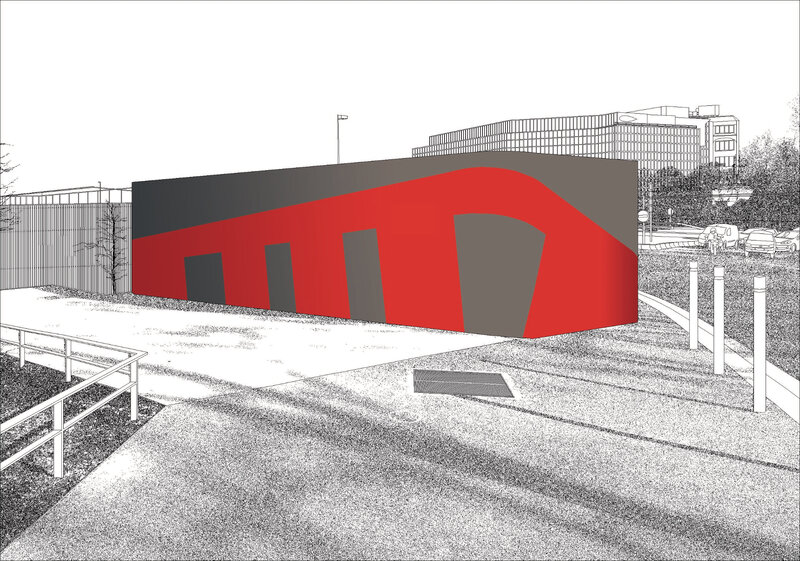 (FR) FAIRE GLISSER D'UN DEMI-TOUR AVEC UN ANGLE LA PEINTURE DU BATIMENT

(UK) PAINTING OF THE WHOLE FRONTAGE WITH ROUNDED BRIMS, WITH A SLIGHT OFFSET AND
CONNECTION
(DE) SCHIEBEN SIE EINE HALBBREITE MIT EINEM WINKEL, DAS DAS GEBÄUDE MALEN
(ES) PINTURA DA CONTINUIDADE DA FACHADA COM BORDAS ARREDONDADAS COM UM LIGEIRO
DESALINHAMENTO E UM ACORDO
(PT) DIAPOSIÇÃO DE MÍDIA VAZE COM UM ÂNGULO PINTANDO O EDIFÍCIO

2009 VILLEJUIF COLLEGE DU CENTRE AIMÉ CESAIRE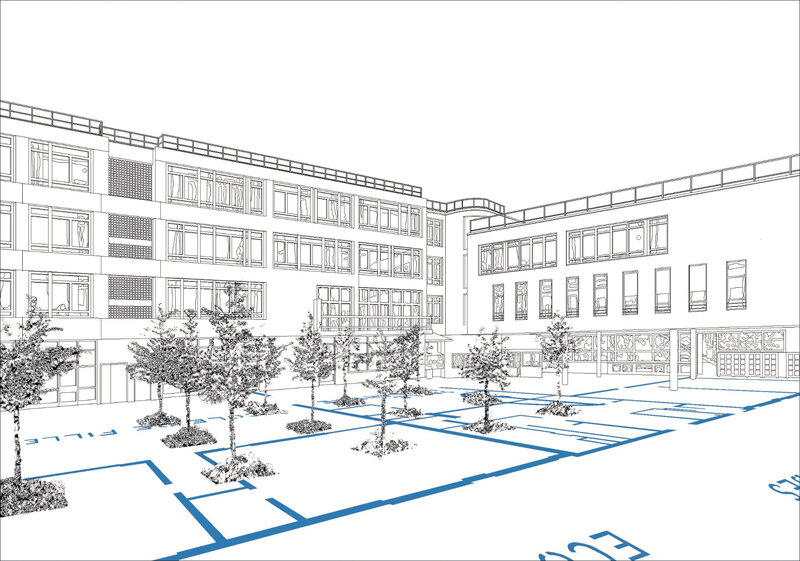 PEINDRE À ECHELLE 1 ET À SON EMPLACEMENT, LE PLAN DU COLLÈGE DÉTRUIT À L'INTÉRIEUR ET À
L'EXTÉRIEUR DU NOUVEAU BATIMENT.

(UK) PAINTING AT SCALE 1 AND ITS LOCATION, THE COLLEGE PLAN DESTROYS INSIDE AND OUTSIDE THE
NEW BUILDING.
(DE) GEMÄLDE IN DER WAAGE 1 UND SEINER LAGE ZERSTÖRT DER COLLEGE PLAN INNERHALB UND NEBEN
DEM NEUEN GEBÄUDE.
(ES) PINTANDO EN LA ESCALA 1 Y SU UBICACIÓN, EL PLAN UNIVERSITARIO DESTRUYE DENTRO Y FUERA
DEL NUEVO EDIFICIO.
(PT) PINTURA NA ESCALA 1 E SUA LOCALIZAÇÃO, O PLANO DA UNIVERSIDADE DESTRUIRA DENTRO E FORA
DO NOVO EDIFÍCIO.

2008 COMPIEGNE UNIVERSITÉ DE TECHONOLOGIE
(FR) CINQ PEINTURES ET UNE LUMIÈRE AVEC DE LEGERS DÉCALAGES DANS LES HALLS ET SUR LA FACADE.

(UK) FIVE PAINTING AND AN OUTSIDE LIGHT PROJECTION WITH SLIGHT OFFSET
(DE) FÜNF FARBEN UND EIN LICHT MIT LICHTSCHICHTEN IN DEN HALLEN UND AUF DER FASSADE.
(ES) CINCO PINTURAS E UMA PROJECÇÃO LUMINOSA EXTERIOR COM LIGEIROS DESALINHAMENTOS
(PT) CINCO PINTURAS E LUZ COM FOLHAS DE LUZ EM SALÕES E FACHADA


2008 SAINT JEAN DE LUZ COMMANDE PRIVÉE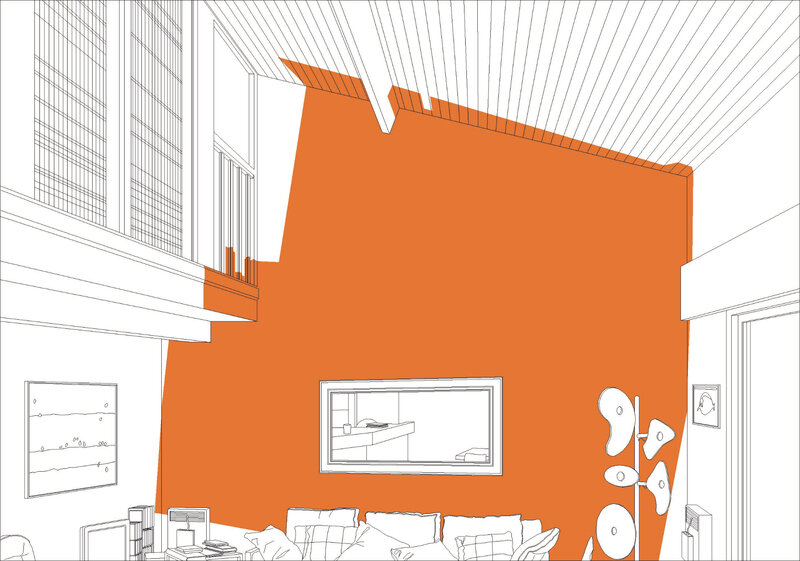 (FR) DEUX PEINTURES REPRENANT LA SURFACE ET LA FORME DE CHAQUE MUR ET PEINTES AVEC UN
LÉGER DÉCALAGE.

(UK) TWO PAINTING WITH SAME SURFACE AND SHAPE AS EACH WALL, PAINTED WITH A SLIGHT
OFFSET AND DIFFERENT COLORS
(DE) ZWEI FARBEN, DIE DIE OBERFLÄCHE UND DIE FORM JEDER WAND WIEDERHERSTELLEN UND
MIT EINER LICHTUMSCHALTUNG MALEN.
(ES) DUAS PINTURAS RETOMANDO A SUPERFÍCIE E A FORMA DE CADA, PINTADA COM UM LIGEIRO
DESALINHAMENTO DE CORES DIFERENTES
(PT) DUAS PINTURAS RECUPERANDO A SUPERFÍCIE E FORMA DE CADA PAREDE E PINTADAS COM
UM CHOQUE DE LUZ.


2008 ANTIBES MUSÉE PEYNET & DU DESSIN HUMORISTIQUE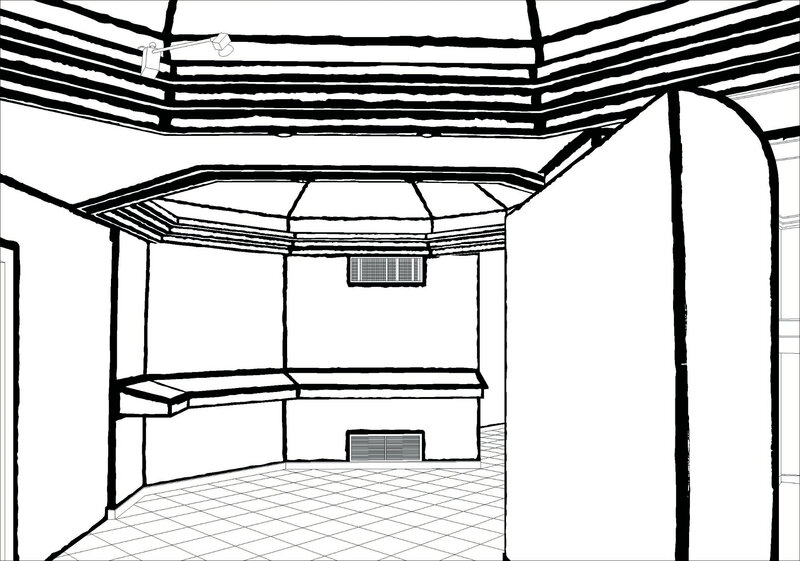 PEINDRE TOUS LES ANGLES DES MURS EN NOIR AVEC UN LARGE PINCEAU ET A MAIN LEVEE.

(UK) PAINT ALL ANGLES OF THE WALLS IN BLACK WITH A BROAD BRUSH AND HAND-RAISED.
(DE) ALLE WÄNDE DER WÄNDE IN SCHWARZ MIT EINER BREITEN BÜRSTE LACKIEREN UND HAND-RAISED
(ES) PINTAR TODOS LOS ÁNGULOS DE LAS PAREDES EN NEGRO CON UN CEPILLO AMPLIO Y LEVANTADO A
MANO.
(PT) PINTAR TODOS OS ANGÉLIOS DAS PAREDES NO PRETO COM UMA ESCOVA LARGA E AUMENTAR A MÃO.

2007 LA DEFENSE PARKING DE LA SOCIÉTÉ GÉNÉRALE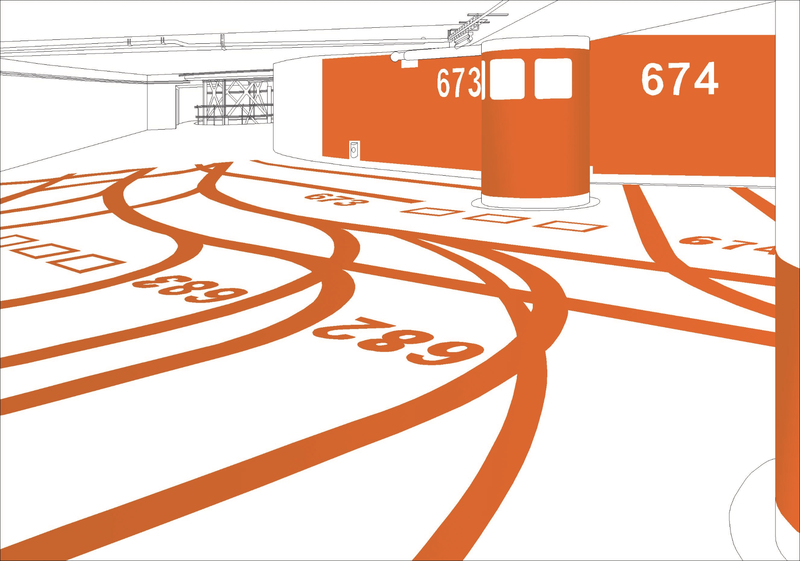 (FR) PEINDRE LES TRACES DES PNEUS DES VOITURES SE GARANT COMME DES TRACES DANS LA NEIGE....
(projet économiquement abandonné)

(UK) PARKING CAR WHEEL TRACES IN THE SNOW
(abandonned for economics reasons)
(DE) MALEREIEN VON REIFEN WIE SPUREN IM SCHNEE MALEN ..
(wirtschaftlich aufgegebenes Projekt)
(ES) RASTOS DE PNEUS DOS CARROS ARRUMANDO­SE COMO RASTOS NA NEVE
(projeto economicamente abandonado)
(PT) PINTURA TRACES DE PNEUS CARROS COMO TRAÇOS NA NEVE ...
(projeto economicamente abandonado)

2007 PARIS LE 104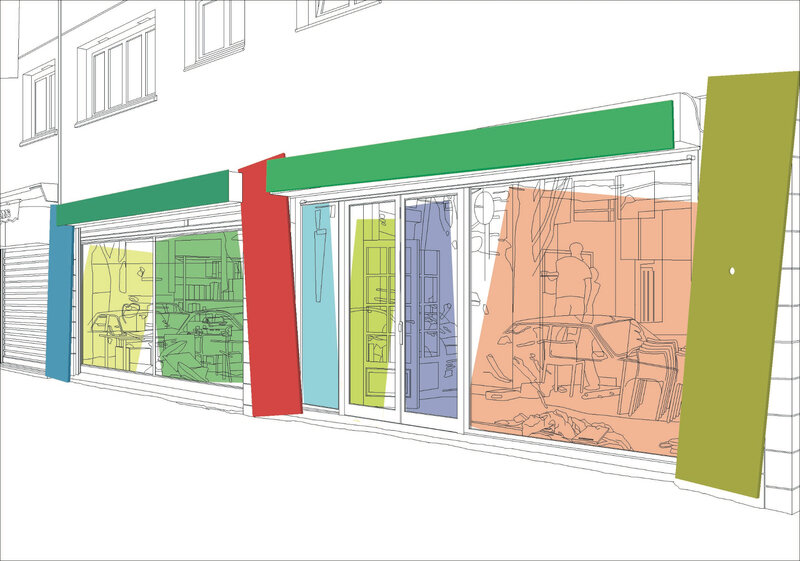 FACADE DES BUREAUX DE PREFIGURATION DU 104 : PEINDRE ET DÉCALER CHAQUES ÉLÉMENTS DE LA
FACADE.
(UK) FACADE OF PREFIGURATION OFFICES OF 104: PAINTING AND DECALING EACH ELEMENTS OF THE
FACADE.
(DE) FASSADE VON VORFIGURATION BÜROS VON 104: MALEREI UND DEKANTIERUNG JEDE ELEMENTE DER
FASSADE.
(ES) FACHADA DE OFICINAS DE PREFIGURACIÓN DE 104: PINTANDO Y DECALANDO CADA ELEMENTOS DE LA
FACHADA.
(PT) FACHADA DE ESCRITÓRIOS DE PREFIGURAÇÃO DE 104: PINTURA E DECALAGEM DE ELEMENTOS DA
FACHADA.
2006 CAFETARIAT DU MUSEE D'ART MODERNE DE LA VILLE DE PARIS
PEINDRE UN MUR EN ORANGE EN DECALANT LA COULEUR D'UN ANGLE DE 10% EN RESPECTANT
L'APPAREILLAGE DE CELUI-CI ET EN RABATANT LES EXEDANTS SUR LES SURFACES MITOYENNES
(UK) PAINT A WALL IN ORANGE BY DIFFERING THE COLOR OF A 10% ANGLE BY RESPECTING THE EQUIPMENT
OF IT AND FALLING THE EXEDANTS ON THE SURFACES DIVIDING
(DE) FÄRBEN SIE EINE MAUER IN ORANGE, INDEM SIE DIE FARBE EINES 10% -IGEN WINKELS UNTERSCHEIDEN,
DASS SIE DIE AUSRÜSTUNG UND DIE AUSFÄLLE AUF DEN OBERFLÄCHEN TEILEN FALLEN
(ES) PINTAR UNA PARED EN NARANJA MEDIANTE LA DIFERENCIA DEL COLOR DE UN ÁNGULO DEL 10%
RESPETANDO EL EQUIPO DE LA MISMA Y CAIENDO LOS EXCEDENTES EN LAS SUPERFICIES MITOYENNES
(PT) PINTANDO UMA PAREDE DE LARANJA DIFERENDO A COR DE UM ÂNGULO DE 10%, CONTRA O
EQUIPAMENTO DE ISSO E OS EXEMPUTORES DE QUALQUER SOBRE AS SUPERFÍCIES DIVISÃO

2005 PARIS PARKING DU QUAI D'AUSTERLITZ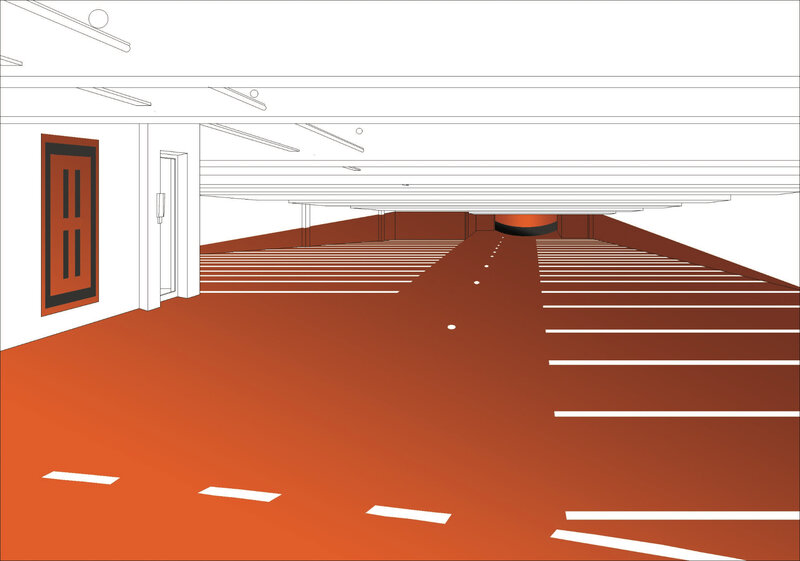 PEINTURE REMETTANT À NIVEAU LES PLANS INCLINÉS DES ZONES DE STATIONNEMENT: SIX ETAGES =
SIX COULEURS.À CHAQUE ÉTAGEDES LOGOS PEINTS INDIQUANT L'ÉTAGE ET LES SIX LOGOS REPRIS À
L'ENTRÉE DU PARKING.
(UK) PAINTING REPLACING THE INCLINED PLANS OF PARKING AREAS: SIX FLOORS = SIX COLORS. EACH
STAGE OF PAINTED LOGOS INDICATING THE FLOOR AND THE SIX LOGOS REPRISED AT THE PARKING
ENTRY.
(DE) MALEREI ERSETZEN DER GESCHLOSSENEN PLÄNE VON PARKPLÄTZEN: SECHS FUSSBÖDEN = SECHS
FARBEN JEDE STUFE GEMALTER LOGOS, DIE DEN BODEN UND DIE SECHS LOGOS BEZEICHNEN, DIE AM
PARKENDEINTRITT REPARIERT WURDEN.
(ES) PINTURA REEMPLAZANDO LOS PLANES INCLINADOS DE LAS ZONAS DE APARCAMIENTO: SEIS PISOS =
SEIS COLORES. CADA ETAPA DE LOGOS PINTADOS QUE INDICAN EL PISO Y LOS SEIS LOGOTIPOS
REPRIMIDOS A LA ENTRADA DEL PARQUEO.
(PT) PINTURA SUBSTITUINDO OS PLANOS INCLINADOS DE ÁREAS DE ESTACIONAMENTO: SEIS PISOS = SEIS
CORES. CADA ETAPA DE LOGOS PINTADOS INDICANDO O PISO E OS SEIS LOGOS REPRODUZIDOS NA
ENTRADA DO ESTACIONAMENTO.

2005 VILLENEUVE D'ASQ ECOLE D'ARCHITECTURE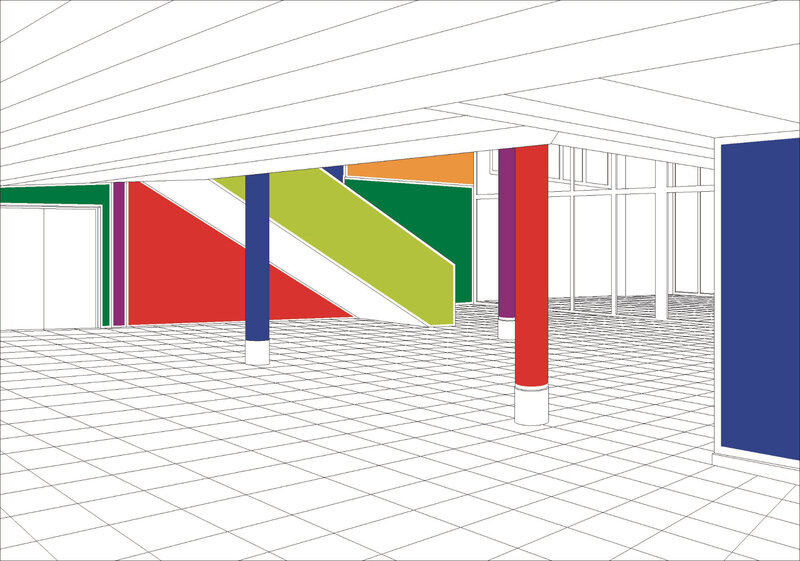 (FR) PEINDRE CHAQUE MUR DE COULEURS DIFFERENTES AVEC UN RETRAIT DE CINQ CENTIMÈTRES
(SCOTCH).
(UK) EACH WALL PAINTED IN DIFFERENT COLORS WITH A 5cm MARGIN
(DE) GEMÄLDE JEDER WAND VON UNTERSCHIEDLICHEN FARBEN MIT ENTFERNUNG VON FÜNF ZENTIMETERN
(ES) CADA PAREDE PINTADA À CORES DIFERENTES COM UMA RETIRADA DE CINCO CENTÍMETROS
(PT) PINTANDO CADA PAREDE DE DIFERENTES CORES COM UMA REMOÇÃO DE CINCO CENTIMETROS
CERNAGE DE CHAQUE MUR PAR DES BANDEAUX DE COULEURS DIFFÉRENTES.
(UK) CURING EACH WALL WITH BANDS OF DIFFERENT COLORS.
(DE) JEDE WAND MIT BÄNDERN VERSCHIEDENER FARBEN.
(ES) CURANDO CADA PARED CON BANDAS DE DIFERENTES COLORES.
(PT) CURANDO CADA PAREDE COM BANDAS DE DIFERENTES CORES.

2004 QUIMPER CENTRE D'ART CONTEMPORAIN LE QUARTIER

(FR) HUIT FANIONS AVEC LE LOGO DU CENTRE D'ART "LE QUARTIER" DÉCOMPOSÉ EN PLUSIEURS
BICHROMIES

(UK) EIGHT FLAGS WITH THE ART CENTER "LE QUARTIER"'S LOGO, SPLITED IN DIFFERENT BICHOMIES
(DE) ACHT FANIONEN MIT DEM LOGO DES KUNSTZENTRUMS "THE DISTRICT" IN MEHREREN BICHROMIES
ENTSCHIEDEN
(ES) OITE FLÂMULAS COM O LOGOTIPO DO CENTRO DE ARTE "LE QUARTIER" DECOMPOSTO EM VARIAS
BICROMIAS
(PT) OITAVA FÂS COM O LOGOTIPO DO CENTRO DE ARTE "O DISTRITO" DECIDIDO EM VARIAS BICHROMIAS

2002 MARSEILLE. COMMANDE PRIVÉE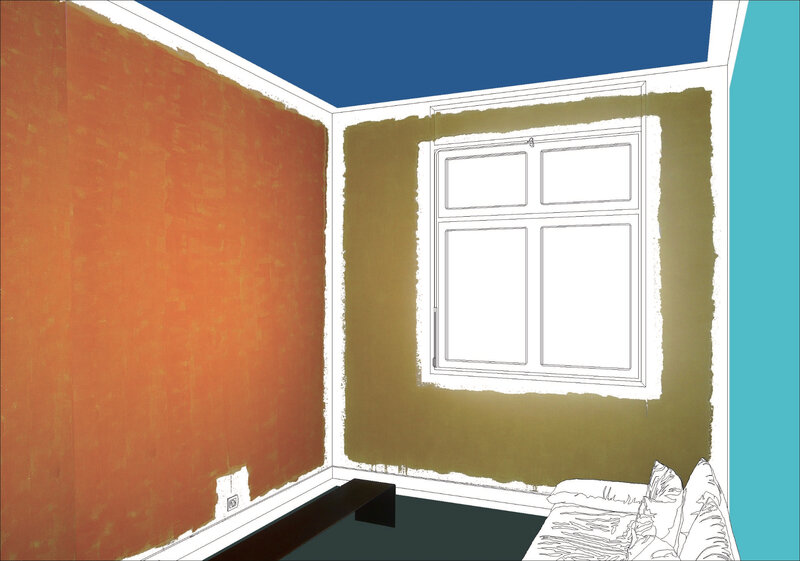 TROIS MURS MALPEINT - UN SOL, UN MUR, LE PLAFOND BIENPEINT + LE MOBILIER EN ACIER CORTEN
(UK) THREE MALPEINT WALLS - A FLOOR, A WALL, THE WELL-PLATED CEILING + CORTEN STEEL
FURNITURE
(DE) DREI MALPEINT WALLS - EIN BODEN, EINE WAND, DIE VERKLEIDETE DECKENBODEN + CORTEN
STEEL MÖBEL
(ES) TRES MALPEINT MUROS - UN PISO, UNA PARED, EL TECHO BIEN PLANEADO + MUEBLE DE ACERO
CORTEN
(PT) TRÊS PAREDES MALPEINTES - UM PISO, UMA PAREDE, O TELEFONO BELLADO + CORTEN STEEL
FURNITURE
2002 PARIS. LIGNE 14 DU METRO PARISIEN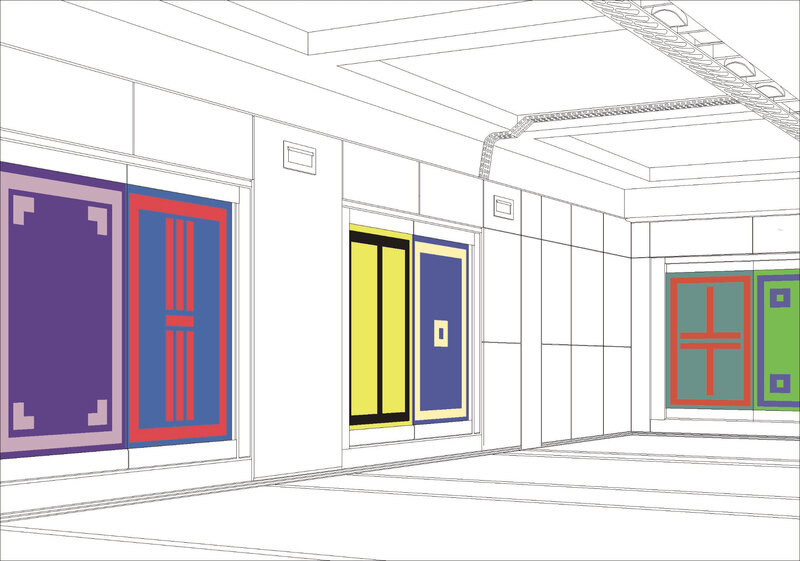 (FR) SERIE DE RIDEAUX INTERCHANGEABLES POUR LES VITRINES DE LA LIGNE 14 DE LA RATP PENDANT
LES PERIODES DE NON-EXPOSITION
(UK) SERIE OF INTERCHAGING CURTAINS FOR THE EXHIBITION WINDOWS OF RATP LINE 14 DURIND
NO-EXHIBITION PERIODS
(DE) AUSTAUSCHBARE VORHANGSREIHE FÜR RATP LINE 14 DISPLAYS IN NICHT-EXPOSITIONSZEITEN
(ES) SÉRIE DE CORTINAS SUBSTITUÍVEIS PARA AS VITRINAS DA LINHA 14 DA RATP DURANTE OS
PERIODOS DE NÃO EXPOSIÇÃO
(PT) SÉRIE DE CORTINA INTERCANEGÁVEL PARA MOSTRAR RATP LINE 14 DURANTE PERÍDOS DE NÃO
EXPOSIÇÃO
2001 PARIS MANUFACTURE DES GOBELINS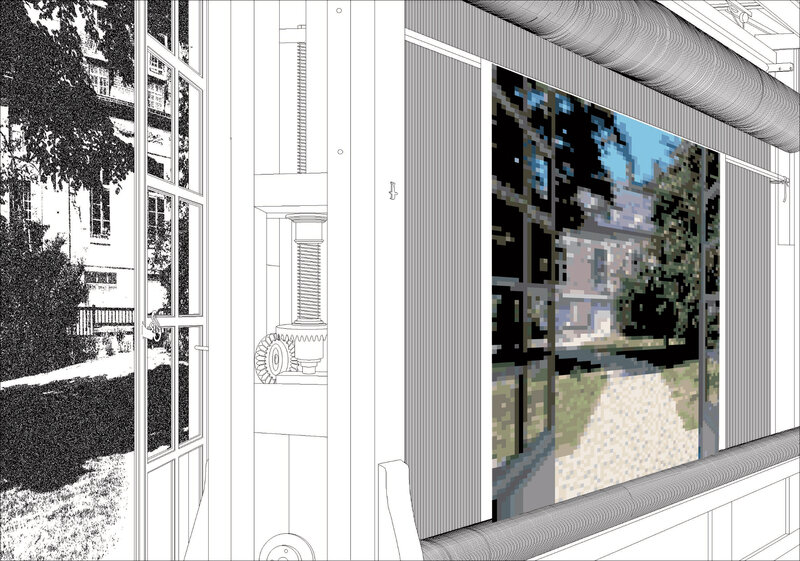 (FR) TAPISSERIE REPRENANT L'IMAGE FAISANT FACE AU METIER A TISSER DE HAUTE LISSE DE LA
MANUFACTURE DES GOBELINS A PARIS
(UK) TAPESTRY OF THE PICTURE FACING HIGH WEAWING LOOM IN THE GOBELIN MANUFACTURE IN
PARIS
(DE) TAPESTRY MIT DEM BILD AUF DEM GLATTEN STOFF DER GOBELINS MANUFAKTUR IN PARIS
(ES) TAPEÇARIA RETOMANDO A IMAGEM À FRENTE DA MÁQUINA DE TECER DA MANUFATURA "DES
GOBELINS" EM PARIS
(PT) TAPESTRY TOMANDO A IMAGEM QUE FACE À TELA LISO DA FABRICAÇÃO DE GOBELINS EM PARIS
2000 CAEN. MAIRIE ABBAYE AUX DAMES MAIRIE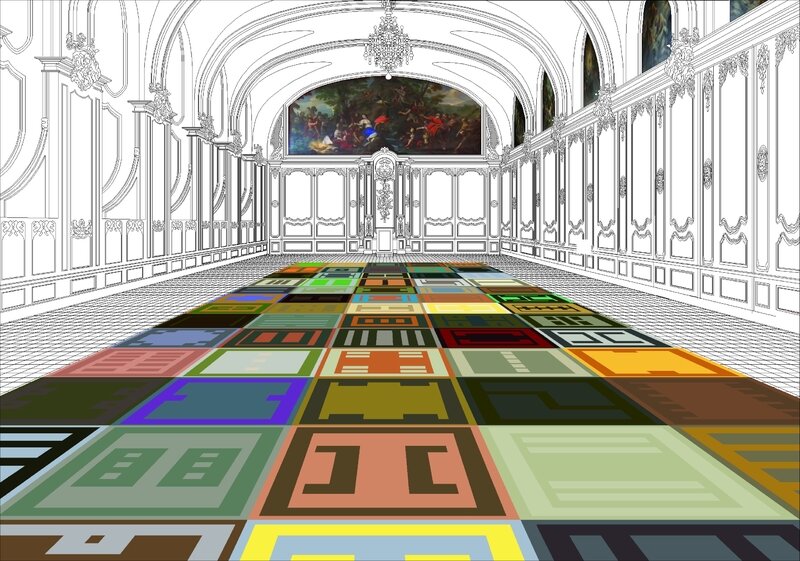 TAPIS DE TRENTE METRES PAR SIX EN IMPRESSION JET D'ENCRE SUR MOQUETTE
(UK) 6 X 30m CARPET PRINTED WITH INKJET ON THE RUG
(DE) TEPPICH VON DREISSÄHIGEN MESSUNGEN PRO SECHS IN DRUCK INKJET AUF TEPPICH
(ES) TAPETES DE TRINTA METROS POR SEIS POR IMPRESSORA JATO DE TINTA SOBRE ALCATIFA
(PT) TAPETE DE TRÊS METROS POR SEIS NA IMPRESSÃO DE INGLESTA EM TAPETE
SIX RECTANGLES DE COULEURS TRANSPARENTES SUR LES SIX BAIE EN VERRE TRIPLEX BRISEES DU PARTAIL
D'ENTREE
(UK) SIX TRANSPARENT COLORED RECTANGLES ON THE SIX BROKEN BAY WINDOWS IN TRIPLEX GLASS OF THE
MAIN GATE
(DE) SECHS RECHTSFÄNGE VON TRANSPARENTEN FARBEN AUF DEN SECHS TRIPLEX GLASBAYEN AUS DEM
EINTRITT PARTAIL
(ES) SEIS RECTÁNGULOS DE COLORES TRANSPARENTES EN LA BAHÍA DE CRISTAL TRIPLEX SEIS ROTOS DE LA
ENTRADA PARTAIL
(PT) SEIS RECTÁNGELOS DE CORES TRANSPARENTES NA BAIXA DE SISTEMA DE SIX TRIPLEX QUEBRADO DO
PARTIDO DE ENTRADA

1998 LOGNES EGLISE SAINT MARTIN
9 BAIES ET 3 OCCULIS EN VERRE BRISE ET FERRURES REALISES AVEC DUCHEMIN MAITRE VERRIER ET 9 COULEURS
DIFFERNTES SUR LES MURS
(UK) 9 BAY WINDOWS AND 3 OCULIS IN BROKEN GLASS AND IRON MADE WITH DUCHEMIN MASTER
GLASSMAKER AND 9 DIFFERENT COLORS ON THE WALLS
(DE) 9 BAYS UND 3 OCCULIS IN BRAUNEM GLAS UND BRÜCKEN, HERGESTELLT MIT DUCHEMIN MAITRE
VERRIER UND 9 VERSCHIEDENEN FARBEN AN DEN MAUERN
(ES) 9 ABERTURAS E 3 OCCULIS DE VIDRO QUEBRADO E FERRAGENS REALIZADAS COM DUCHEMIN
MESTRE VIDREIRO E 9 CORES DIFERENTES SOBRE AS PAREDES
(PT) 9 BAIXAS E 3 OCULTAS NO VIDRO BROWN E PONTES PRODUZIDAS COM DUCHEMIN MAITRE VERRIER
E 9 DIFERENTES CORES NAS PAREDES

1995 PARIS. HALLS DES 35.37.39. RUE BARON-LEROY 12e
TROIS VOLUMES DANS LES TROIS HALLS DU BATIMENT POUVANT S'EMBOITER DANS UN DETAIL
ARCHITECTURAL DE LEUR CONTENANT. CHACUN PEINT D'UNE COULEUR DIFFERENTE ET DONNANT CETTE
COULEUR AUX PORTES PALIERES DU NUMERO CONCERNÉ

(UK) THREE VOLUMES IN THE THREE HALLS OF THE BUILDING THAT CAN FALL WITHIN AN ARCHITECTURAL
DETAIL OF THEIR CONTAINER. EACH PAINTED WITH A DIFFERENT COLOR AND GIVING THIS COLOR TO
THE BEARING DOORS OF THE NUMBER CONCERNED
(DE) DREI VOLUMEN IN DEN DREI HALLEN DES GEBÄUDES, DIE IN EIN ARCHITEKTONISCHES DETAIL IHRES
CONTAINERS FALLEN KÖNNEN. JEDE IN EINER ANDEREN FARBE GEMALT UND DIESE FARBE DEN
LAGERTÜREN DER BETREFFENDEN NUMMER ZUGEBEN
(ES) TRES VOLÚMENES EN LOS TRES SALTOS DEL EDIFICIO QUE PUEDEN CAERSE DENTRO DE UN DETALLE
ARQUITECTÓNICO DE SU CONTENEDOR. CADA PINTURA CON UN COLOR DIFERENTE Y DANDO ESTE
COLOR A LAS PUERTAS PORTADORAS DEL NÚMERO AFECTADO
(PT) TRÊS VOLUMES NAS TRÊS SALAS DO EDIFÍCIO QUE PODEM CAUSAR EM UM DETALHE ARQUITECTÓNICO
DE SEU RECIPIENTE. CADA PINTADO COM UMA DIFERENTE COR E DANDO ESTA COR À PORTAS DE
ROLAMENTO DO NÚMERO CONCERNIDO
1990 FORT LAUDERDAL VOILIER CHARLES JOURDAN VERNISSAGE EN MER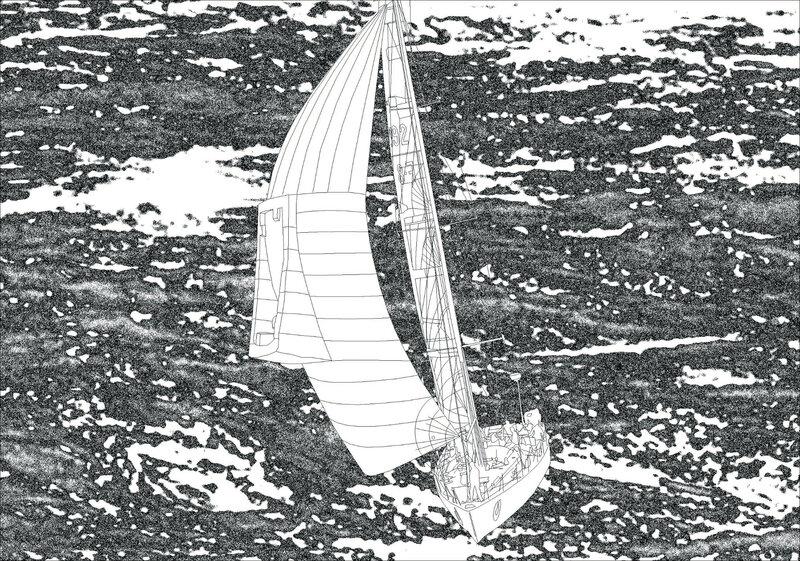 VOLUME COUSU SUR LE SPINAKER DU VOILIER CHARLES JORDAN POUR LA COURSE AUTOUR DU MONDE'
"WHITHEBREAD"

(UK) SQUARE VOLUME ON CHARLES JORDAN SAIL SPINAKER FOR RACE AROUND THE WORLD 'WHITHEBREAD'
(DE) QUADRATISCHES VOLUMEN AUF CHARLES JORDAN SEGEL SPINAKER FÜR RENNEN UM DIE WELT
'WHITHEBREAD'
(ES) VOLUMEN CUADRADO EN CHARLES JORDAN SAIL SPINAKER PARA LA RAZA ALREDEDOR DEL MUNDO
'WHITHEBREAD'
(PT) VOLUME QUADRADO SOBRE CHARLES JORDAN SAIL SPINAKER PARA A RAÇA EM TODO O MUNDO
'WHITHEBREAD'